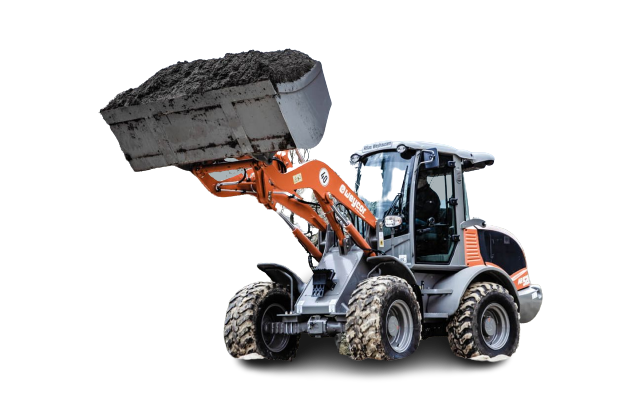 Weycor AR 520 Wheel Loader
The Weycor AR 520 Wheel Loader is a robust and versatile piece of heavy machinery designed for optimal performance across various applications. With an engine output of 80 kW (107 HP), this wheel loader is capable of handling tasks in construction, agriculture, material handling, recycling, civil engineering, and road construction. It boasts a service weight of 6.45 tons and a bucket capacity ranging from 1.2 to 1.5 cubic meters, making it suitable for your project needs. The AR 520 also features excellent cross-country mobility, high tilt stability, and extreme maneuverability, thanks to its articulated-swivel joints and rigid axes.
Features:
Robust, low-maintenance articulated-swivel joints with an oscillation of ±12° in the rear carriage and an articulation angle of 40°.
Hydraulic quick-change attachment for easy and fast change of attachments.
Separate inching pedal as standard, facilitating precise distribution of shearing and lifting forces.
High breakout forces and excellent lifting heights provided by proven weycor kinematics.
State-of-the-art Z-kinematics characterized by high frictional forces and excellent lifting heights.
Spring-loaded brake system that securely holds the wheel loader in position on a slope and automatically locks all four wheels when the engine is at a standstill.
Comfortable cabin with excellent circumferential visibility, clearly arranged controls, and ergonomic design.
Easy maintenance facilitated by central, consolidated, easy-to-reach service points.
Powerful drive unit with three operating speed ranges: 0 to 6.5 km/h, up to 20 km/h, or optional high speed at up to 40 km/h.
Articulated-pendulum joint for enhanced maneuverability.