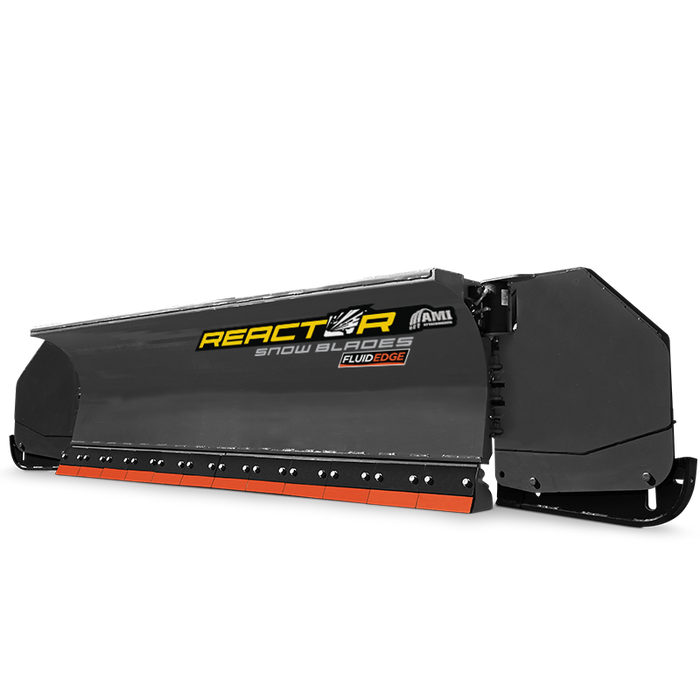 AMI Reactor 4-in-1 Angle Blade (Fluid Edge)
The big 4-in-1 Blade is a system of four blade positions that give you the tools to clear large areas of snow fast. The endplates are hydraulically-controlled and equipped with industry-proven rotary actuators, giving you rugged and limitless control within the massive 180 degree rotation. Getting close to buildings and other objects is easy with the limitless on-the-fly in-cab adjustability.
When the big storm hits and you need to react fast - count on the AMI Reactor 4-in-1 Blade to get the job done in style. Gain the upper edge and improve your snowplowing capabilities this winter with the all-new Fluid Edge Segmented Cutting Edge. Featuring individual 12" segments that respond and conform to uneven surfaces, Fluid Edge provides exceptional snow clearing no matter what conditions winter throws at you.
With minimal moving parts - only an Hardox 450 cutting edge and a rubber suspension block - Fluid Edge boasts a simple design that is also easy to service and maintain. Requiring only two bolts and two nuts, replacing an Fluid Edge segment is an easy one-person job. Because you don't need to replace the entire blade, Fluid Edge is also an economical solution to lowering costs for your snowplowing fleet.