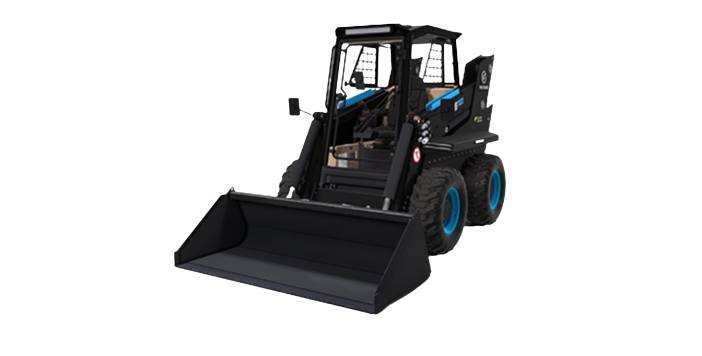 FirstGreen Industries Elise 700
The Elise 700 by First Green Industries is a fully electric skid steer loader, designed with the future in mind. This innovative machine is a lighter version of the Elise 900 model, thanks to its lithium battery and narrower wheels. These features allow for better transportability while maintaining excellent working parameters.
Features:
The Elise 700 has a rated load capacity of 700 kg (1,543 lb) and a tipping load of 1,400 kg (3,086 lb).

It can travel at a minimum speed of 0.15 km/h (0.09 mph) and a maximum speed of 12 - 15 km/h (7.46 - 9.32 mph).

The total weight of the loader is 3,500 kg (7,716 lb), with a rated operating weight of 2,800 kg (6,173 lb).

The machine is powered by a 3 x Best Motor electric engine, with a rated power of 3 x 10 kW (13.4 HP) and a maximum power of 3 x 27 kW (36.2 HP).

The Elise 700 is equipped with a variety of accessories for different tasks, including mowing shrubs and grass, cutting trees up to a trunk diameter of 200 mm (7.9 in), and handling logs up to a wood diameter of 780 mm (30.7 in).

It also features a snow blower for effective cleaning of sidewalks, paths, and open spaces from accumulated snow, and a combined bucket with a width of 1,850 mm (72.8 in) that can be fitted with replaceable teeth.