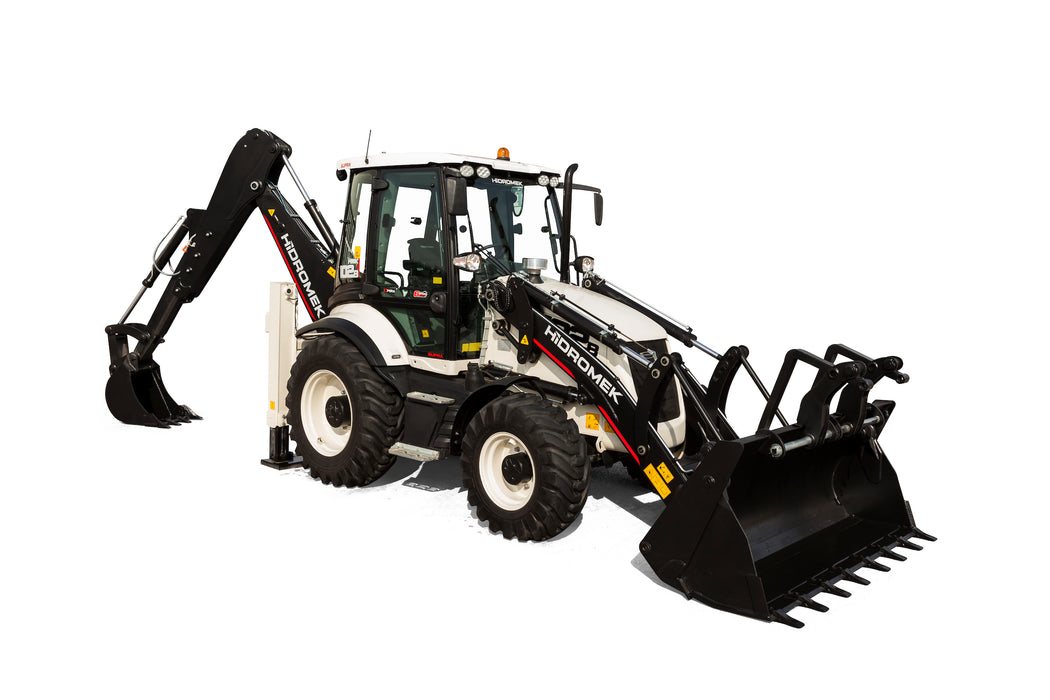 Hidromek HMK 102 B SUPRA Backhoe Loader
The Hidromek HMK 102 B SUPRA Backhoe Loader is a high-performance machine designed for efficiency and productivity. This rigid chassis backhoe loader features a 4x4 drive, powered by a turbo diesel engine and a fully automatic power-shift transmission. The machine is part of the K4 series, known for its innovative design and superior technology. It offers easy and safe usage with a comfortable cabin, making it ideal for both field and city work. The HMK 102 B SUPRA is equipped with a Perkins engine that delivers up to 99 horsepower, making it one of the most powerful in its class.
Features:
Rigid chassis with 4x4 drive for superior maneuverability.
Turbo diesel engine and fully automatic power-shift transmission for high performance.
Part of the innovative K4 series, offering superior technology and design.
Comfortable cabin for easy and safe operation.
Powered by a Perkins engine delivering up to 99 horsepower.
Designed for severe geographical conditions and heavy working conditions.
Efficient hydraulic system providing maximum breakout force even at lower revolutions.
High oil flow for increased productivity.
Compatible with various attachments for versatility in different work environments.
Improved loader cylinder design for accelerated movements and increased efficiency.
Low fuel consumption due to improvements in cylinder design.
Production years range from 2013 to 2017, with models still available as of 2023.