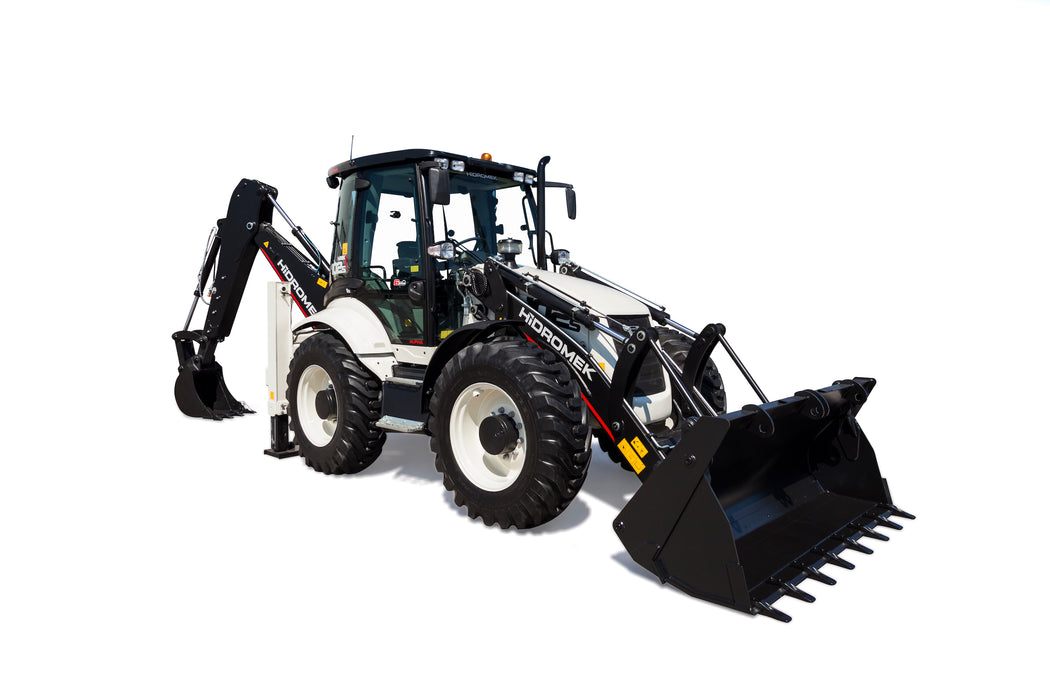 Hidromek HMK 102 S ALPHA Backhoe Loader
The Hidromek HMK 102 S ALPHA Backhoe Loader is a powerful and efficient machine designed for heavy-duty tasks. It is powered by a Perkins engine that delivers up to 99 horsepower, making it one of the most potent machines in its category. The backhoe loader weighs approximately 9.55 tons, ensuring stability and robustness during operation.
Key Features:
Equipped with an optional MSS (Motion Stabilizer System) that acts as a shock absorber on the loader lift cylinders, reducing the impact when a full loader bucket is in use.
Comes with standard tyres of various sizes including 16.9x30, 18.4-26/12.5-80, and 16.9x28-14 PR, providing excellent traction and stability.
Offers different bucket capacities ranging from 1 m³ to 1.4 m³, allowing for versatile usage depending on the task at hand.
Designed for severe geographical conditions and heavy working conditions, enhancing productivity with its strong structure and efficient hydraulic system.
Provides maximum breakout force even at lower revolutions and high oil flow, thanks to its superior hydraulic system.
Can be used with different attachments such as leveling shovel, forklift, hammer, auger, log, pendulum bucket, snow plow, scrap and paper collection bucket, bottom opening (big bag) bucket, stone collecting bucket, trapeze bucket, ripper and polyp attachment.
Improved loader cylinder design allows for accelerated movements, making loading and unloading operations faster by 20%.
More efficient fuel consumption due to improvements in cylinder design, producing more work with less fuel.