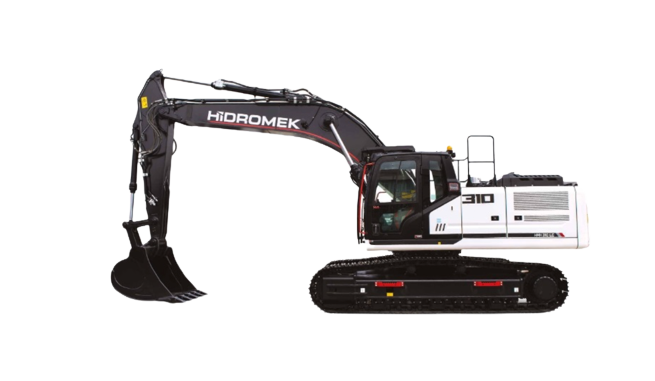 Hidromek HMK 310 LC Crawler Excavator
The Hidromek HMK 310 LC Crawler Excavator is a powerful and reliable machine, designed to deliver exceptional performance in various construction environments. With a weight of 32.1 tons, this excavator is well-balanced and capable of producing significant power when required. Its transport dimensions are 10.88m in length, 3.2m in width, and 3.49m in height, making it a sizable yet manageable piece of machinery. The bucket capacity of 1.6 cubic meters, coupled with the LC undercarriage, ensures efficient digging and loading operations.
Features:
Weight: 32.1 tons, ensuring stability and robustness.
Transport Dimensions: Length - 10.88m, Width - 3.2m, Height - 3.49m, allowing for easy transportation.
Bucket Capacity: 1.6 cubic meters, enabling efficient excavation.
Undercarriage: LC type, providing excellent traction and maneuverability.
Performance: Exceptional handling and reliability, as attested by operators.
Power: Capable of generating substantial power when needed.
Safety: Equipped with ROPS (Roll Over Protective Structure) & FOPS (Falling Object Protective Structure) for maximum safety.
Vision: Excellent vision capacity with minimized blind spots and improved night vision due to increased number of LED headlights.
Audio Warning Systems: Includes automatic starting horn, swing warning system, and travel warning system for enhanced safety.