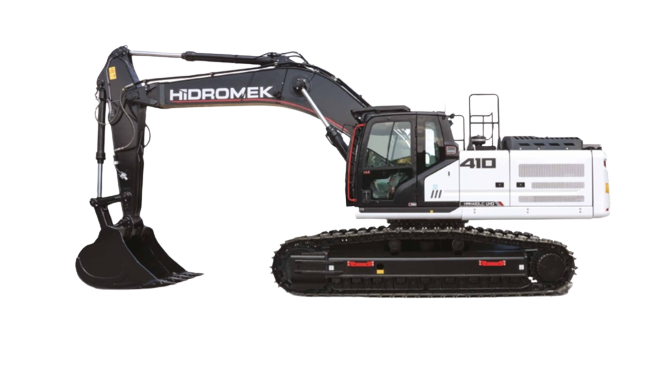 Hidromek HMK 410 LC UHD Crawler Excavator
The Hidromek HMK 410 LC UHD Crawler Excavator is a high-performance machine designed for heavy-duty construction and excavation tasks. This exceptional excavator, praised for its performance, handling, and reliability, offers an impressive balance of power and precision. With a weight of 41.6 tons, it is equipped with a robust diesel engine and a bucket capacity of 2.5 cubic meters. Its advanced hydraulic system design ensures faster, more productive, and efficient work, producing more output with less fuel consumption.
Features:
Weight: 41.6 tons, ensuring stability and strength for heavy-duty tasks.
Transport dimensions: Length - 10.94m, Width - 3.5m, Height - 3.64m, allowing for easy transportation.
Bucket capacity: 2.5 cubic meters, enabling large volume excavation.
Undercarriage: LC, providing robust support and durability.
Engine type: Diesel, offering reliable and powerful performance.
Reinforced heavy-duty construction, ensuring maximum performance and durability.
Advanced hydraulic system design, enabling faster and more efficient operation.
Enhanced safety features including automatic starting horn, swing warning system, and travel warning system.
Wide vision capacity with minimized blind spots and improved night vision, ensuring operator safety.
Produced by Hidromek, a trusted name in the heavy machinery industry.