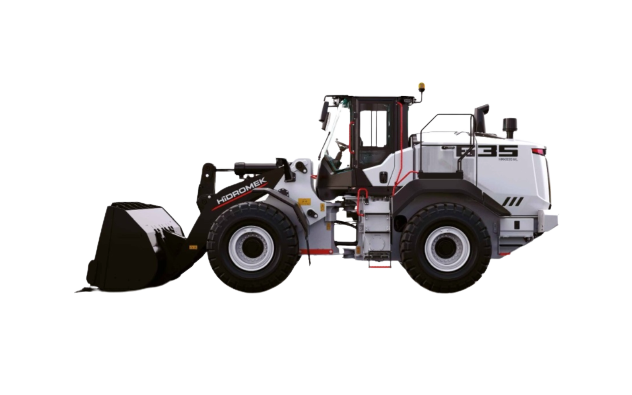 Hidromek HMK 635 WL Wheeled Loader
The Hidromek HMK 635 WL Wheeled Loader, manufactured between 2021 and 2023, is a high-performance, heavy-duty machine designed for efficiency and operator comfort. It boasts a high engine power that allows it to produce more work with less fuel, making it an economical choice for various industrial applications. Its high lifting capacity and breakout force ensure maximum productivity, while its ergonomic design and advanced features provide a comfortable working environment for the operator.
Features:
High Efficiency: The HMK 635 WL offers high efficiency in every task, allowing for more work with less fuel consumption.
High Power and Capacity: With its maximum power, high lifting capacity, and breakout force, this loader can handle heavy-duty tasks with ease.
Operator Comfort: Features such as a panoramic cab, heated, adjustable, air suspension operator seat, fully automatic A/C system, versatile holder, kickdown button for downshifting, and touch control panel ensure a comfortable working environment.
Easy Maintenance: The HMK 635 WL offers easy access to service points on the machine from ground level, enabling easy fuelling up and battery maintenance operations. The cab and bonnet can be manually tilted for easy access to the engine assembly.
Fast Cycle Times: This wheel loader shortens cycle times and increases productivity, meeting user expectations in terms of performance, durability, low fuel consumption, versatility, operator comfort, and safety.
Versatility: The HMK 635 WL offers breakout power and control capability in severe working areas such as quarry enterprises, concrete plants, and other industrial applications.
Environmentally Friendly: Equipped with a Stage-5 engine with 282 HP and 1200 Nm torque, this loader is both productive and environmentally friendly.
Smooth Gear Shifting: The loader has 5 forward, 3 reverse powershift transmission, and shifting gears is performed very smoothly and rapidly.