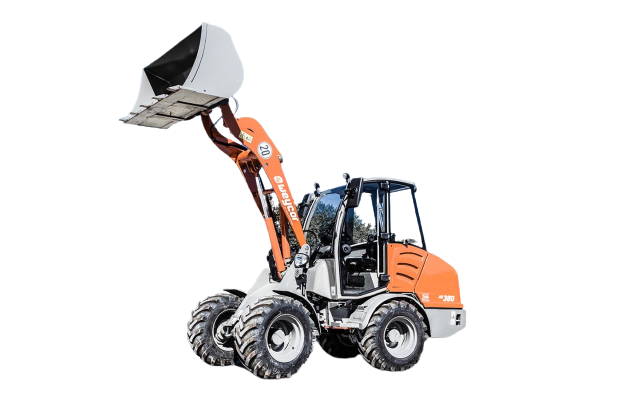 Weycor AR 380 Wheel Loader
The Weycor AR 380 is a robust and efficient wheel loader, designed to handle heavy-duty tasks with ease. Manufactured between 2022 and 2023, this machine is equipped with a powerful Kubota D 1803-CR-T engine that delivers an impressive power of 37 kW. With a weight of 3.5 tons, the AR 380 is built to withstand demanding conditions while maintaining optimal performance. Its bucket has a width of 1.55 meters and a capacity ranging from 0.36 m³ to 0.6 m³, making it ideal for lifting and transporting various materials such as debris, gravel, soil, and dirt.
Features:
Weight: 3.5 tons, providing stability and durability.
Engine: Kubota D 1803-CR-T engine with a power output of 37 kW.
Bucket: Width of 1.55 meters and a capacity range of 0.36 m³ to 0.6 m³.
Standard Tyres: Size 15.0 / 55 - 17, offering excellent traction and maneuverability.
Travel Speed: Maximum speed of 20 km/h, ensuring quick and efficient operation.
Steering Mode: KL, for precise control and easy handling.
Transport Dimensions: Length - 4.58 m, Width - 1.5 m, Height - 2.46 m.
Emission Level: V, adhering to environmental standards.
Special Equipment: Includes a diesel particulate filter, swing loader, telescopic arm, air conditioning, and quick hitch (both hydraulic and mechanical).
Carbon Footprint: CO2 emissions can be calculated using the ERA equipment CO2 Calculator, allowing for optimization of energy consumption.