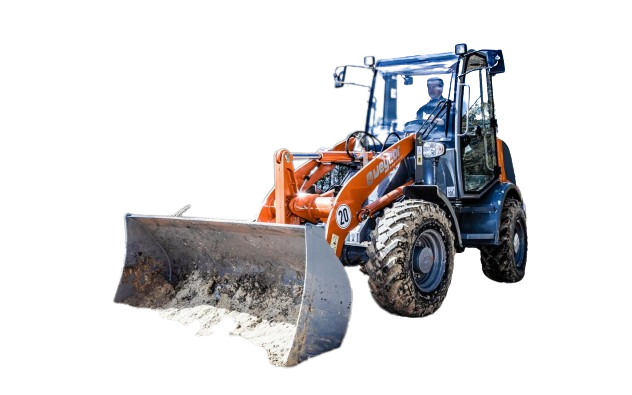 Weycor AR 400 Wheel Loader
The Weycor AR 400 Wheel Loader is a versatile and powerful piece of machinery, designed for precision and efficiency. Manufactured between 2019 and 2023, this wheel loader is equipped with a robust Yanmar engine that delivers an output of 46 kW (61.5 HP). It has an operating weight of 4.55 tons and a bucket capacity ranging from 0.85 to 1.25 cubic meters. The AR 400 is particularly adept at handling narrow construction sites, making it a valuable asset in construction, landscaping, agriculture, material handling, and civil engineering projects.
Features:
Powerful Yanmar engine with 46 kW (61.5 HP) output.

Operating weight of 4.55 tons.

Bucket capacity of 0.85 to 1.25 cubic meters.

Excellent performance in the L performance class.

High manoeuvrability, ideal for narrow construction sites.

Robust, low-maintenance articulated-swivel joints for outstanding cross-country mobility.

Hydraulic quick-change attachment for easy swapping of attachments.

Comfortable cabin with excellent visibility and ergonomic design.

Easy maintenance with central, consolidated, easy-to-reach service points.

Separate inching pedal for precise distribution of shearing and lifting forces.

Spring-loaded brake system for secure positioning on slopes.

Travel speed up to 20 km/h, with optional high speed up to 40 km/h.

Standard tyres: 12,5-18 MPT.

Bucket width: 1.85 m.

Transport dimensions: Length - 5.25 m, Width - 1.785 m, Height - 2.475 m.

Turning radius outside: 4.17 m.

Lifting force: 46.5 kN.
- Emission level V compliant.