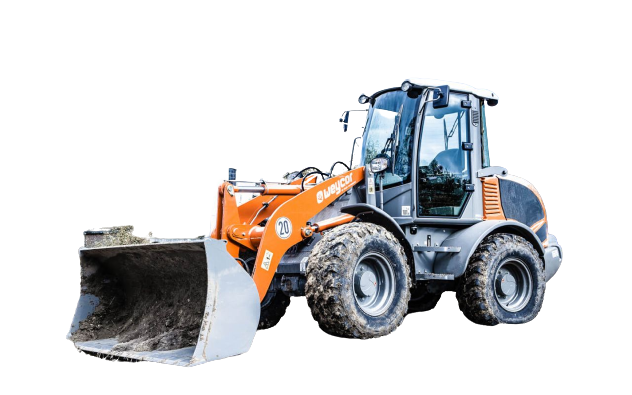 Weycor AR 480 Wheel Loader
The Weycor AR 480 Wheel Loader is a powerful and versatile piece of heavy machinery, designed for a wide range of applications from mainstream construction to civil engineering and road building. Despite its large size, it proves to be the right choice even on narrow construction sites, showcasing the real power of Weycor. With a service weight of 6.28 tons, an engine power of 55.4 kW (74.3 HP), and a bucket capacity ranging from 0.8 to 1.25 m³, the AR 480S stands as a showpiece model in the new generation of wheel loaders.
Features:
Powerful drive unit with operating speed range from 0 to 6.5 km/h and road speed range up to 20 km/h.

Equipped with a swiveling bucket, providing more flexibility.

Spring-loaded or negative brake system that securely holds the loader in position on a slope and locks all four wheels when the engine is at a standstill.

Comfortable cabin with excellent circumferential visibility, clearly arranged controls, and ergonomic design.

Low-maintenance and easy servicing due to central, consolidated, easy-to-reach service points.

Hydraulic quick-change attachment for changing attachments in a few seconds.

Separate inching pedal as standard, facilitating precise distribution of shearing and lifting forces.

Latest kinematics technology with exceptional tear-out force and excellent lifting heights.

Articulated joint and rear oscillating axle for excellent maneuverability and cross-country mobility.

Capable of lifting almost anything such as debris, gravel, soil, dirt, pallets, etc.