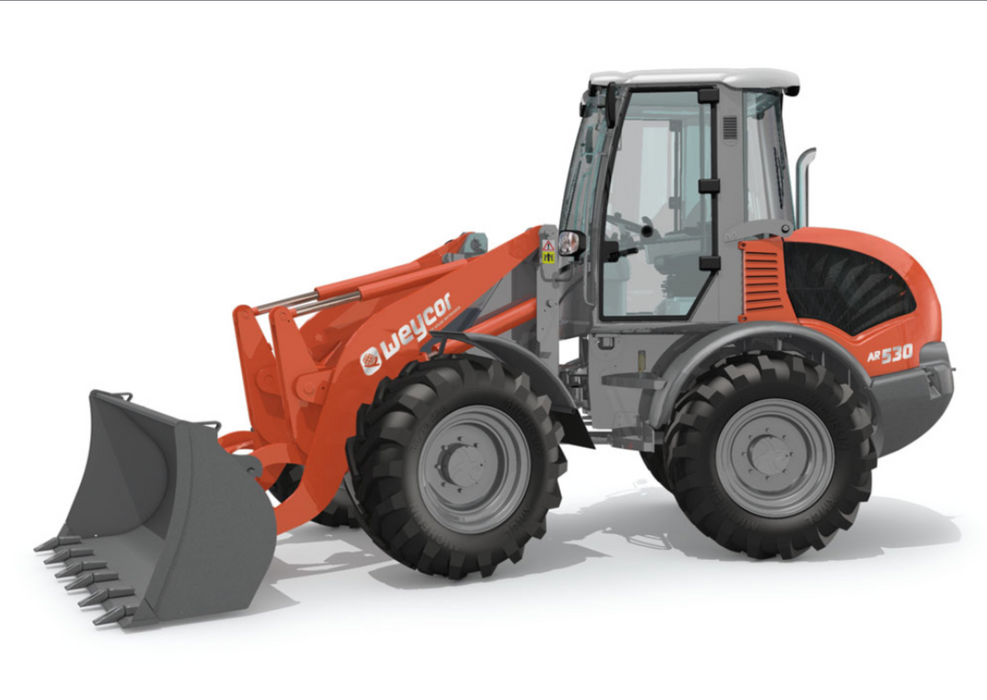 Weycor AR 530 Wheel Loader
The Weycor AR 530 Wheel Loader is a high-performance, versatile piece of heavy machinery designed for optimal efficiency and durability. With an operating weight of around 7 tonnes, this wheel loader boasts an engine output of 80 kW (107 HP) and a bucket capacity of 1.3 to 1.5 m³. It's engineered for stability and is primarily used in construction, municipal operations, agriculture, material handling, recycling, civil engineering, and road construction. 
Features:
Engine output of 80 kW (107 HP) for powerful performance.
Bucket capacity of 1.3 to 1.5 m³ for efficient material handling.
Robust, low-maintenance articulated-swivel joints for outstanding cross-country mobility.
Hydraulic quick-change attachment for versatility and ease of use.
Separate inching pedal for precise control of shearing and lifting forces.
Comfortable cabin with excellent visibility and ergonomically arranged controls.
Low-maintenance design with easy-to-reach service points for quick servicing.
Spring-loaded brake system for secure positioning on slopes.
Capable of operating at speeds up to 40 km/h.
High tilt stability even under extreme conditions.
Excellent lifting heights and breakout forces due to state-of-the-art kinematics.
Optimal prerequisites for using pallet forks due to very good parallel guide.