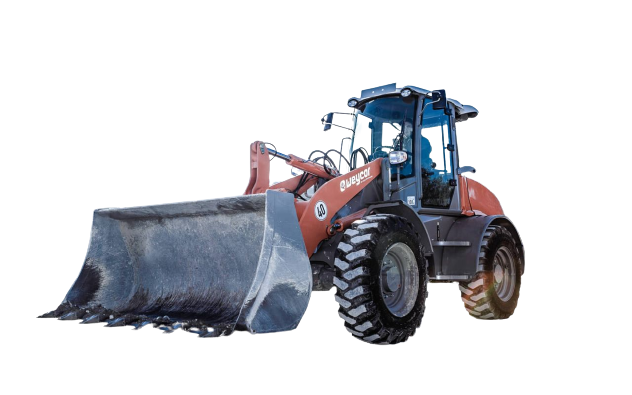 Weycor AR 550 Wheel Loader
The Weycor AR 550 Wheel Loader is a robust and versatile machine designed for heavy-duty operations. With specifications that are impressive in its class, this wheel loader boasts a weight of 8.25 tons and is equipped with standard 15.5-25 EM 20 tyres. The bucket width measures 2.3 meters, providing a generous capacity of 1.4 cubic meters. This powerful drive unit can operate at speeds ranging from 0 to 6.5 km/h, and it also offers excellent road speed range. 
Features:

Weight: 8.25 tons, ensuring stability and strength in demanding conditions.
Standard Tyres: 15.5-25 EM 20, offering durability and excellent traction.
Bucket Width: 2.3 meters, allowing for efficient loading and unloading.
Bucket Capacity: 1.4 cubic meters, providing ample space for materials.
Powerful Diesel Engine: Ensures reliable performance and longevity.
Hydraulic Components: Includes pumps, motors, and valves for smooth operation.
Transmission Components: Features gearbox, axles, wheels/tracks, pumps, and motors for optimal control and maneuverability.
Operating Speed Range: 0 to 6.5 km/h, suitable for various operational needs.
Road Speed Range: Provides excellent mobility on roads without causing damage to asphalt or concrete.
Lifting Arm and Bell Crank: Facilitates lifting and lowering of the bucket, and opening and closing of the bucket, respectively.
Versatility: Capable of lifting a wide range of materials including debris, gravel, soil, dirt, pallets, etc.