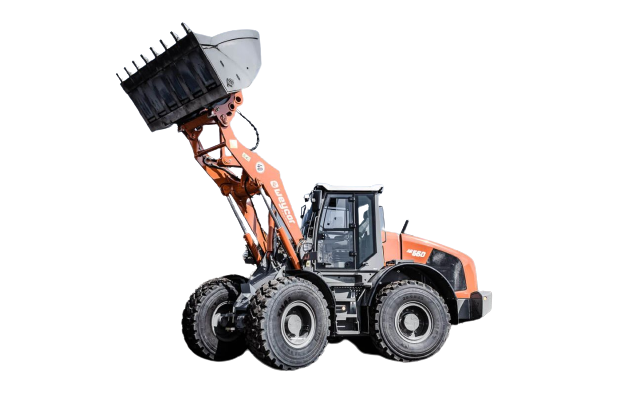 Weycor AR 660 Tier 3 Version Wheel Loader
The Weycor AR 660 Tier 3 Version Wheel Loader is a large, powerful, and versatile piece of heavy machinery. Manufactured between 2020 and 2023, this wheel loader is designed for use in various sectors including construction, municipal services, building yards, agriculture, and material handling. With an impressive operating weight of just under 14 tons, a six-cylinder engine outputting 155 kW (208 HP), and a bucket capacity ranging from 2.5 to 4.5 cubic meters, the AR 660 is equipped to handle any task, no matter how big.
Features:
Powerful Drive Unit: The AR 660 can operate at speeds ranging from 0 to 14 km/h, with an optional high speed of up to 40 km/h. It features a separate inching pedal and drive pedal function for optimal distribution of hydraulic power for thrust and lifting forces.
Wear-Free Negative Brake: This feature securely holds the wheel loader in position on a slope when the brake or inching function is activated. All four wheels are automatically locked, even when the engine is stopped.
Articulated Joint & Floating Axle: These provide outstanding off-road capability and maneuverability, ensuring stability even off-road.
Optional Hydraulic Quick-Change Mechanism: This feature allows for quick and easy attachment changes, making the AR 660 a true all-rounder.
Comfortable Cabin: Designed for safe, fatigue-free operation with excellent all-round visibility, clearly arranged instruments, and ergonomic design.
Easy Servicing: Maintenance and upkeep are made simple with centrally arranged, easily-accessible service points.
Unique Engine Mount: The engine is independently suspended, decoupled from the axle to avoid vibration and noise emission.
High Breakout Forces and Excellent Lifting Height: Thanks to tried and tested weycor kinematics.
Clean Engine: The AR 660 features a clean engine, reducing its environmental impact.