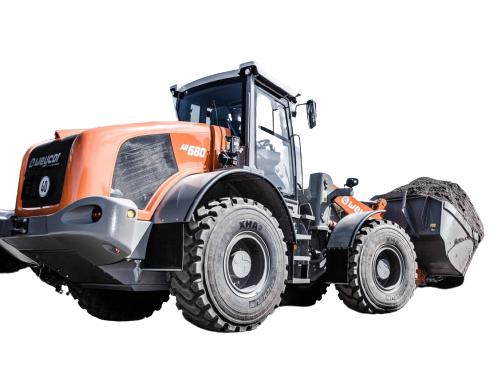 Weycor AR 680 Tier 3 Version Wheel Loader
The Weycor AR 680 Tier 3 Version Wheel Loader is a powerful and versatile piece of heavy machinery, designed for optimal performance in construction and civil engineering projects. With an impressive operating weight of 14.8 tons, this wheel loader boasts a robust 155 kW engine and a bucket capacity of 3 cubic meters. The AR 680 is not only powerful but also environmentally friendly and economical in consumption. 
Features:
Powerful 155 kW engine for superior performance.
Large bucket capacity of 3 cubic meters for efficient loading.
Unique stability due to low center of gravity, even off-road.
Optional hydraulic quick-change mechanism according to ISO 23727, allowing for swift attachment changes.
Wear-free negative brake that securely holds the wheel loader in position on a slope when the brake or inching function is activated.
Comfortable cabin with excellent all-round visibility and ergonomic design.
Easy servicing due to centrally arranged, easily-accessible service points.
Independent suspension of the engine decoupled from the axle to avoid vibration and noise emission.
High breakout forces and excellent lifting height due to tried and tested weycor kinematics.
Optional traction via 100% electrically-operated differential lock in front and rear axles.
Separate inching pedal & drive pedal function for best distribution of hydraulic power for thrust and lifting forces.