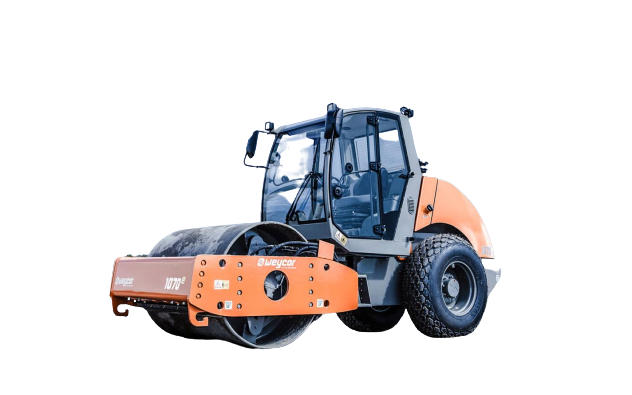 Weycor AW 1070 Compaction Roller
The Weycor AW 1070 Compaction Roller is a state-of-the-art piece of machinery designed for the construction industry. This roller, a product of the collaboration between Atlas Weyhausen and Comer Industries, is powered by a robust 62 kW engine. It is primarily used for stabilizing soil in the construction of roads, runways, and railway track beds.

Features:

Operating weight of 7.1 tons, ensuring effective compaction.
Gradeability of 45% with vibration and 50% without vibration, allowing it to operate efficiently on various terrains.
Equipped with a Deutz TD 2.9 L4 engine model that meets EU STAGE 5 emission standards.
Engine output of 54 kW (72.4 HP), providing substantial power reserves.
Robust, maintenance-free articulated pendulum joints for exceptional maneuverability.
No-spin axle with permanent differential lock for best traction and maximum climbing power.
Optional front and rear scrapers for removing accumulated material on wet and cohesive soils.
Convertible smooth drum into a pad foot drum with an optional segment kit.
Ergonomic arrangement of operating controls and compaction measurement devices for safe operation.
Low-emission diesel engines with efficient water cooling, suitable for heavy-duty operation even at extreme outside temperatures up to 55°C.
ECO-Mode feature that reduces noise exposure and fuel consumption by up to 30%.
2-stage vibratory system with high compaction capacity for surface and deep compaction.
Speed of 0–10 km/h and angular movement of ±12°.
Tyres size: 16,9–24.
Easy maintenance with widely openable engine hood and low-maintenance components.
HA-Control for perfect adaptation to different types of soil and improved climbing ability.