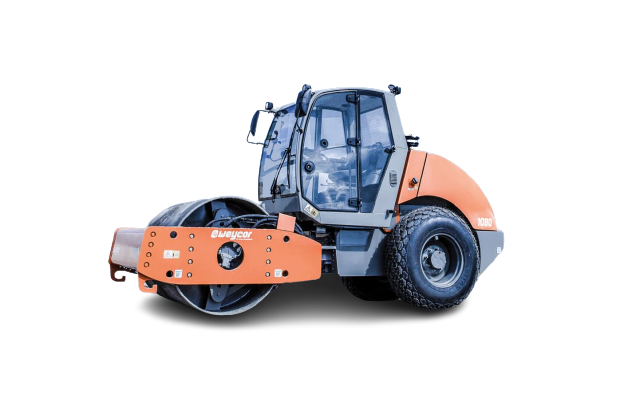 Weycor AW 1080 Compaction Roller
The Weycor AW 1080 Compaction Roller is a powerful and reliable machine, designed with innovative technology for optimal performance. This German-made roller is an essential tool for any construction site, boasting a service weight of 8 tons and a gradeability of 45% with vibration and 50% without. It is engineered to meet diverse requirements in its field of application, compressing soil, asphalt, clay, and other granular elements to ensure robust load-bearing capacity. 
Features:
Reliable Quality: The Weycor AW 1080 is made in Germany, ensuring high-quality construction and reliable performance.
Powerful Compaction Technique: With a service weight of 8 tons, this roller can handle heavy-duty compaction tasks.
Innovative Technology: Equipped with a Perkins 1104D-44T engine, it delivers a power of 70 kW.
Versatile Application: It is capable of compressing various materials including soil, asphalt, and clay.
Environmentally Conscious: The machine comes with a carbon footprint calculator for single-drum rollers, allowing users to evaluate CO2 emissions based on different biofuel scenarios.
Special Equipment: The roller features a diesel particulate filter, sheep foot, oscillation, compression control, and air conditioning for enhanced functionality.
Detailed Specifications: The roller has a transport length of 5.032 m, width of 1.7 m, height of 2.92 m, and a travel speed of 14 km/h. It also features a roller width of 1.7 m and an amplitude of 1.6 mm.
Efficient Design: The roller has a turning radius outside of 5.6 m and inside of 3.9 m, ensuring easy maneuverability on the construction site.
Spare Parts Availability: Spare parts for the Weycor AW 1080 are easily available from our partners, ensuring minimal downtime in case of repairs or replacements.