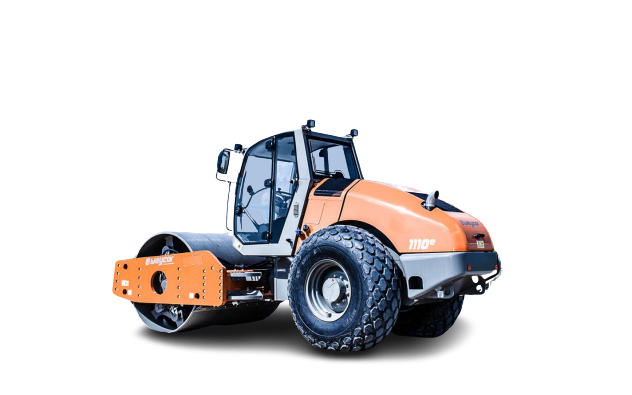 Weycor AW 1110 Compaction Roller
The Weycor AW 1110 Compaction Roller is a powerful and reliable construction machine, designed with precision and technical excellence. It is primarily used in the compaction of crushed stone, gravel, soil, and sand, making it an ideal choice for civil engineering and road construction projects. The roller's robust design and high-gradeability make it adaptable to different surfaces, ensuring maximum traction at all times.
Features:
Powerful Engine: Equipped with a Cummins QSF 3.8 engine that meets EU STAGE 4 emission standards, the roller delivers an output of 97 KW (130 HP).
Optimal Speed: The roller has a travel speed of 0–11.5 km/h, ensuring efficient operation.
High Gradeability: With a gradeability of 43% with vibration and 48% without vibration, the roller can handle steep slopes with ease.
Robust Design: The entire front frame, except for the crossbeams, is welded for maximum stability. The roller also features a no-spin axle for best traction and maximum climbing power.
Efficient Maintenance: All relevant aggregates are easily accessible via the wide-opening engine hood, reducing maintenance time and effort.
HA-Control: This feature ensures perfect adaptation to different types of soil by providing maximum traction to the axle and the roller drum automatically.
ECO-Mode: This optional feature reduces noise exposure and fuel consumption by up to 30% without any loss of hydraulic system power.
Comfortable Cabin: The panoramic ROPS cabin features an ergonomic arrangement of controls and special cabin bearings to cushion vibrations, ensuring operator comfort and safety.
Vibration System: The 2-stage vibratory system offers high compaction capacity with two selectable frequencies and amplitudes for surface and deep compaction.
Weight and Dimensions: The roller has an operating weight of 11,700 kg, a transport length of 5.757 m, a transport width of 2.27 m, and a transport height of 2.92 m.