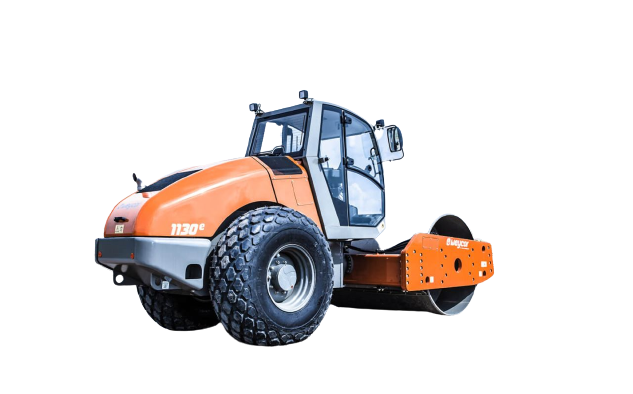 Weycor AW 1130 Compaction Roller
The Weycor AW 1130 Compaction Roller is a powerful and reliable machine designed for civil engineering and road construction projects. It is particularly effective in the compaction of crushed stone, gravel, sand, and soil. Manufactured between 2016 and 2023, this single drum compactor boasts an operating weight of 12.9 tons and a gradeability of 41% with vibration or 46% without vibration.
Features:
Engine: The AW 1130 is powered by a Cummins QSF 3.8 engine that meets EU STAGE 4 emission standards. This engine delivers an output of 97 KW (130 HP).
Speed: The compactor can reach speeds of up to 12.5 km/h.
Gradeability: With vibration, the machine has a gradeability of 41%. Without vibration, it increases to 46%.
Operating Weight: The machine has an operating weight of 12,900 kg, with 7,200 kg on the front and 5,700 kg on the rear.
Compaction Performance: The linear drum load is 34.29 kg/cm.
Low-Emission Diesel Engines: These engines are designed for heavy-duty operation and can withstand extreme outside temperatures up to 55°C.
Articulated Pendulum Joint: This feature ensures exceptional maneuverability with an angle of 35 degrees and a pivoting angle of 12 degrees.
No-Spin Axle: This standard feature provides the best traction and maximum climbing power.
Maintenance: The machine is designed for quick and trouble-free maintenance with easy access to all relevant aggregates.
HA-Control: This high pressure-dependent control by Bosch-Rexroth ensures perfect adaptation to different types of soil.
ECO-Mode: This optional feature reduces noise exposure and fuel consumption by up to 30%.
Vibration: The 2-stage vibratory system offers high compaction capacity with two frequencies and two amplitudes for surface and deep compaction.
Comfortable Panoramic Rops Cabin: The cabin features special bearings to cushion vibrations and an ergonomic arrangement of controls to prevent tiredness.