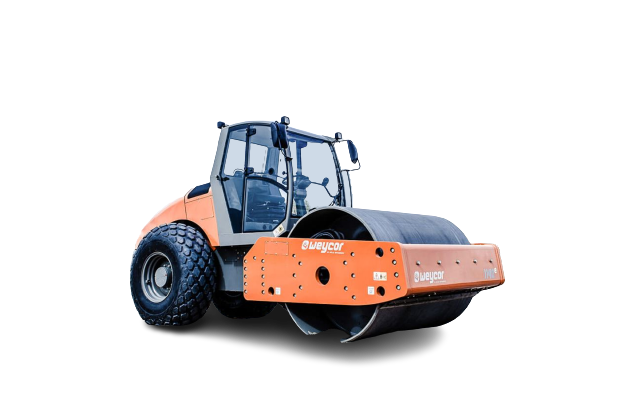 Weycor AW 1140 Compaction Roller
The Weycor AW 1140 Compaction Roller is a powerful and reliable machine designed for soil compaction. It is the safest and strongest way to compact soil, making it an essential tool in civil engineering and road construction. The AW 1140 is particularly effective in the compaction of crushed stone, gravel, sand, and earth. 
Features:
Robust, maintenance-free articulated pendulum joints for exceptional maneuverability.
No-spin axle with permanent differential lock for best traction and maximum climbing power.
Ergonomic arrangement of operating controls and compaction measurement devices for safe operation.
Low-emission diesel engines with substantial power reserves and efficient water cooling.
ECO-Mode feature for reduced noise exposure and fuel consumption by up to 30%.
2-stage vibratory system with high compaction capacity for surface and deep compaction.
Optional front and rear scrapers for removing accumulated material on wet and cohesive soils.
Comfortable panoramic ROPS cabin for operator comfort.
Easy maintenance with wide-opening engine hood and maintenance-free or low-maintenance components.
HA-Control for perfect adaptation to different types of soil and improved climbing ability.