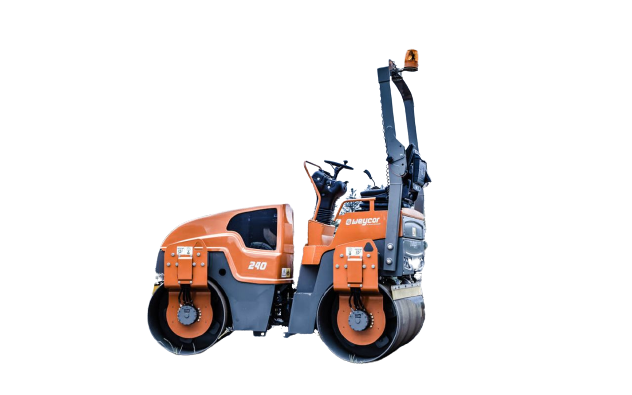 Weycor AW 240 Tandem Roller
The Weycor AW 240 Tandem Roller is a compact yet powerful construction machine, weighing in at 2.7 tons. It is the smallest of its kind in the Weycor family, but it doesn't compromise on performance. The roller is primarily used in civil engineering and road construction, ensuring optimal compaction of various soil materials such as crushed stone, gravel, sand, and earth.
Features:
The front drum is offset by 50 mm to the right side, allowing for more room for steering corrections when flush compaction on edges is necessary.
All pivot points of the roller are adapted for life and do not require lubrication, resulting in time and cost savings.
The operating platform is decoupled from the frame, enabling fatigue-free operation of the machine.
The roller comes with a standard folding rops for a low transport height.
It has the largest drum diameter in its weight class, which positively impacts the evenness after the compaction process.
The roller features the largest water tank in its weight class, with a sprinkler system with pump and interval timer as standard.
Vibration can be activated separately at the front and rear, allowing for sensitive compaction in the first crossings.
The roller comes with a vibration automatic standard to avoid cross-grooves when changing direction.
The roller has a centrifugal force of 21.5 / 28 kN and an average linear drum load of 13.50 kg/cm.