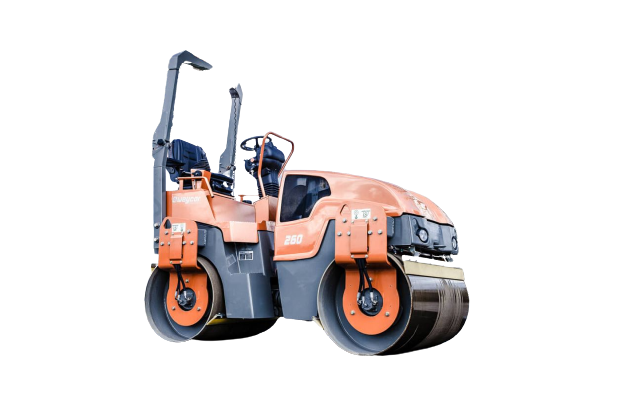 Weycor AW 260 Tandem Roller
The Weycor AW 260 Tandem Roller is a compact yet powerful piece of machinery that is designed with precision and efficiency in mind. This German-made roller boasts an operating weight of 2,900 kg, making it ideal for compacting crushed stone, gravel, sand, and soil. It's also well-suited for civil engineering and road construction projects. 

Features:

Engine Model: Deutz D 2011 L2i, Tier 3 emission standard, with an engine output of 22.5 kW (30 HP).
Operating Weight: 2,900 kg with an average axle load of 1,450 kg.
Gradeability: 30% with vibration and 35% without vibration.
Speed: 0–9 km/h with an angular movement of ± 12°.
Compaction Performance: Frequency I / II at 53 / 61 Hz.
Centrifugal Force: I / II at 25 / 34 kN.
Drum Offset: The front drum is offset by 50 mm to the right side, allowing for more room for steering corrections when flush compaction on edges is necessary.
No Lubricating Points: All pivot points of the roller are adapted for life not to need lubrication, saving time and money.
Decoupled Operating Platform: Ensures fatigue-free operation of the machine without disability by decoupling from the frame.
Folding Rops Standard: Allows for a low transport height.
Largest Drum Diameter and Water Tank in its Weight Class: Ensures even compaction and long-lasting water lubrication on the drum surface.
Vibration Front and Rear: Can be activated separately for sensitive compaction in the first crossings.
Vibration Automatic Standard: Prevents cross-grooves when changing direction by briefly switching off the vibration and then automatically re-enabling it.