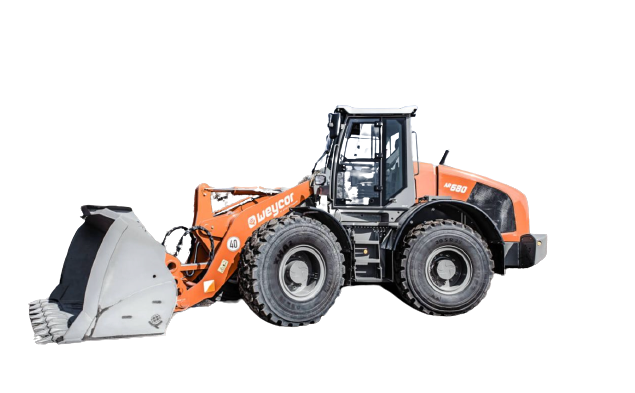 Weycor AR 680 Wheel Loader
The Weycor AR 680 Wheel Loader, often referred to as the "Swiss army knife" of wheel loaders, is a versatile and robust machine designed for a variety of applications. Manufactured between 2020 and 2023, this powerful workhorse is ideal for use in sandpits, industrial settings, and agricultural environments. With its mighty engine, it provides optimum traction and high breakout forces, ensuring excellent lifting heights. This wheel loader is not only powerful but also environmentally friendly and economical in consumption.
Features:
Precise distribution of shearing and lifting forces, reducing wear and fuel consumption.
Separate inching pedal that eliminates the risk of inadvertently activating the main brake.
Wear-free negative brake that securely holds the wheel loader in position on a slope.
Articulated joint and floating axle for outstanding off-road capability and manoeuvrability.
Optional hydraulic quick-change mechanism according to ISO 23727 for easy attachment changes.
Comfortable cabin with excellent all-round visibility and ergonomic design.
Easy servicing due to centrally arranged, easily-accessible service points.
Unique engine mount that independently suspends the engine to avoid vibration and noise emission.
High breakout forces and excellent lifting height thanks to tried and tested weycor kinematics.
Powerful drive unit with optional high speed at up to 40 km/h.
Safe, fatigue-free operation with clearly arranged instruments.