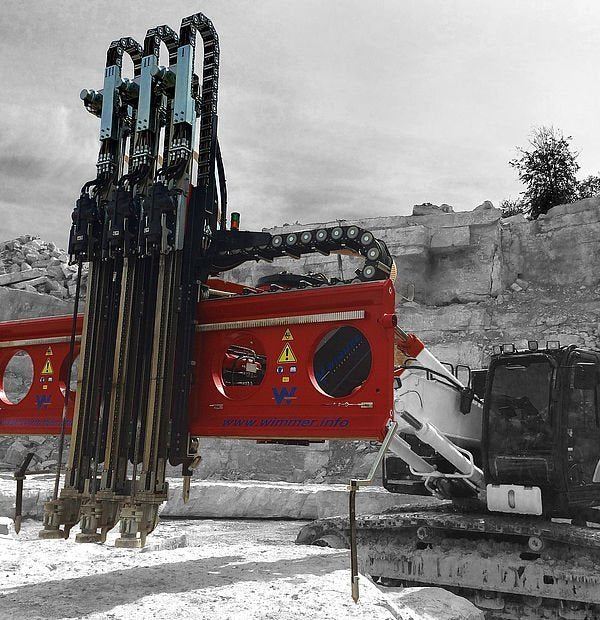 Wimmer Jura Luna Row Drill
The Wimmer Jura Luna Row Drill is a specialized drilling rig designed for vertical row drilling. This high-performance equipment comes with a range of features that enhance its functionality and efficiency. The Wimmer Jura Luna Row Drill, with its robust design and advanced features, is your reliable partner for all vertical row drilling needs.

Features:
90° sideways swivelling, with an optional 2 x 30° swivelling feature for increased flexibility.
Radio remote control for all functions, offering proportional control and optional excavator control.
Automatic blank tapping, cavity protection, anti-sticking drilling device, and gentle tapping as standard features to ensure smooth operation.
SPS automatic drilling and SPS remote maintenance (Drillmatic) options available for enhanced performance and ease of use.
Complete solutions including compressor and dust extraction, along with an excavator superstructure for comprehensive drilling needs.
Wimmer Cockpit Drilling Data Analysis for real-time data monitoring and analysis.
Drill hammer with a maximum diameter of 41mm to 55mm, depending on the model.
Useful drilling depth and width of 1900mm and 3500mm respectively, providing ample space for various drilling tasks.
Accessories include Dust extraction (WDC 450 or WDC 560), compressor (WK 3000), ensuring a clean and efficient drilling process.