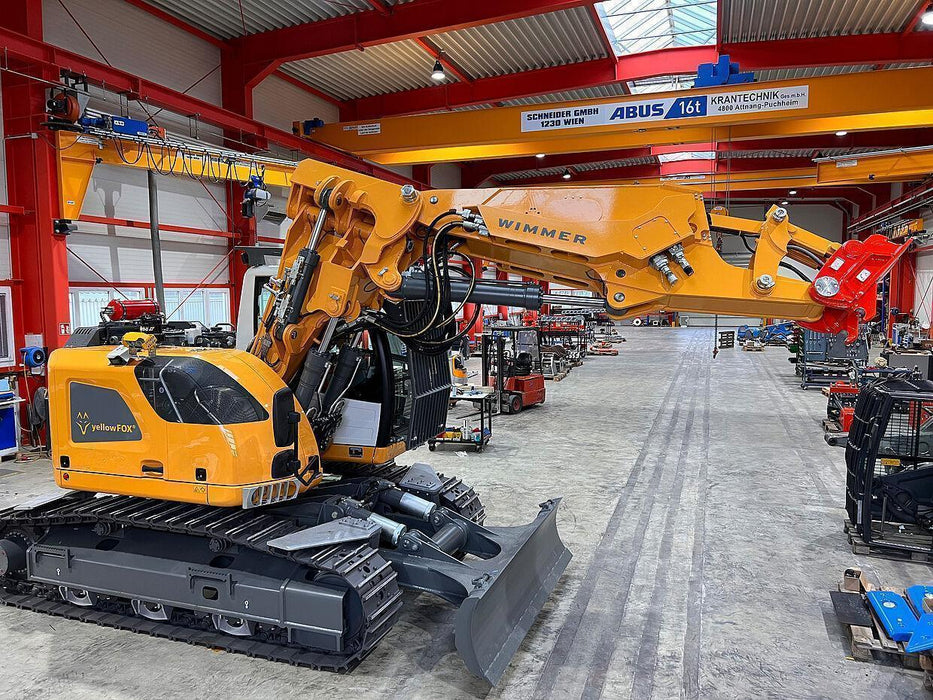 Wimmer YellowFOX Tunnel Excavator
The YellowFOX Tunnel Excavator is a high-efficiency, flexible machine designed by Wimmer for tunnelling applications. It is part of the Wimmer tunnel excavator series, including the Blue Badger, eBadger, and miniBadger models. The YellowFOX is specifically designed for larger tunnel cross-sections where the Blue Badger may be too small.
The YellowFOX is built on a specially made Liebherr platform, consisting of a Liebherr 914 Compact Litronic superstructure and a Liebherr 920 Compact Litronic undercarriage. This is not a standard platform but a custom version designed explicitly for Wimmer. The excavator boom of the YellowFOX is also custom-made by Wimmer, demonstrating the company's commitment to tailored solutions for its clients.
Key features include:
Working heights from 4.2 m.




Breakout force of 120 kN and tear force of 115 kN.




Tne operating weight of approximately 22 tons.




Engine power of 90 kW Tier IV Final Stage.




Boom can be swiveled by 45°.




Push rod to allow cylinder to be concealed/protected.




Protected routing of hoses and lines for better protection against damage.




Tunnel A-Lock quick coupler with SUVA type examination certificate.




Bucket cylinder with push rod for complete protection of the cylinder.




Boom kinematics optimized for tunneling.




Integrated fire extinguishing system and emergency stop button.




Optional Blaxtair person detection system.




Central Lubrication System, reversible fan, and 2-grouser bottom plate 500 mm with chainscraper.




Refueling pump and fire-resistant hydraulic oil (PAG).